What Happened to the Access Roadmap?
[Access Developers]: Stop putting out bad information on the public roadmap.[Microsoft]: OK, we'll stop putting out information on the public roadmap.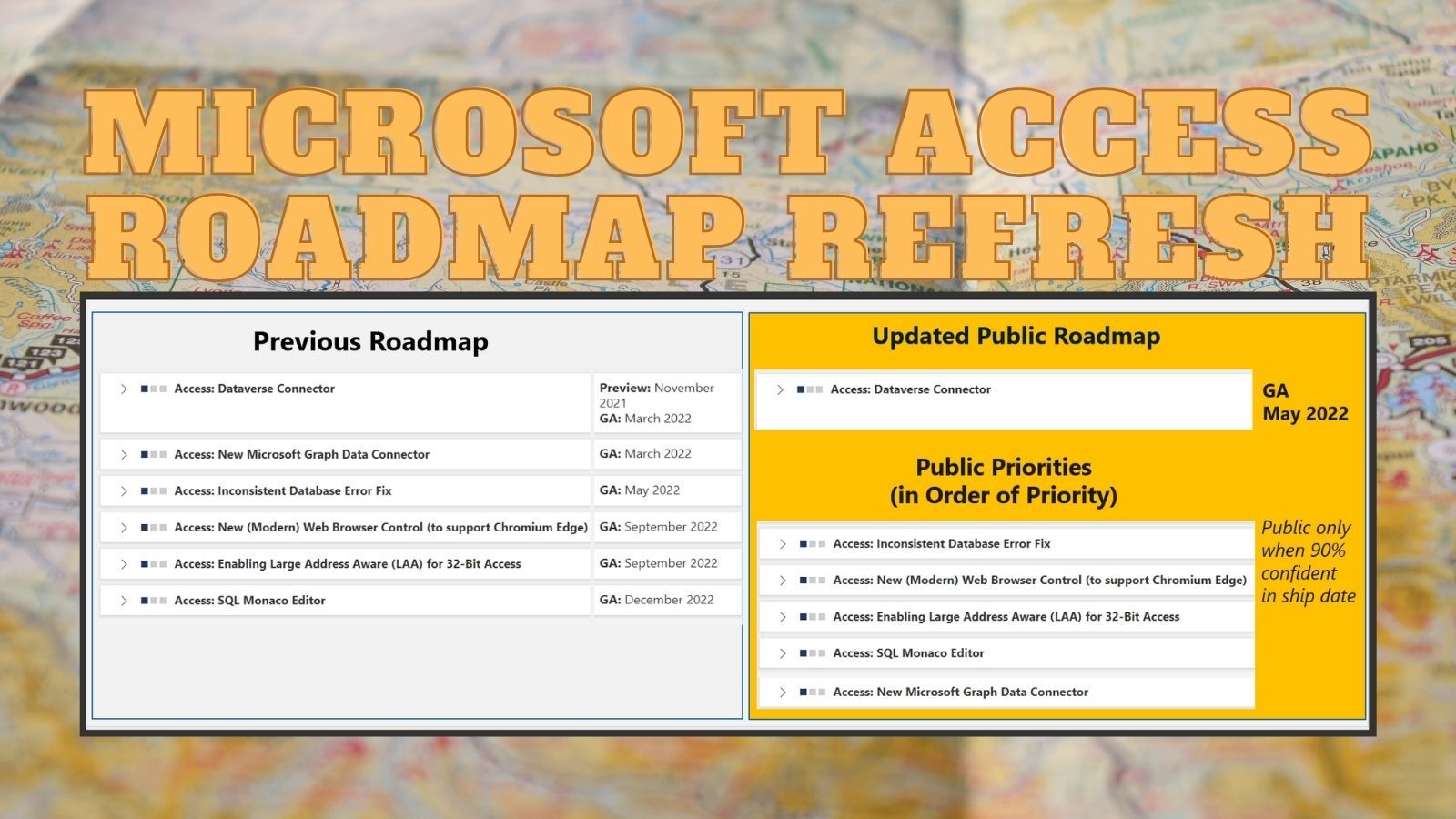 As I write this article, here's how the current Microsoft Access roadmap looks: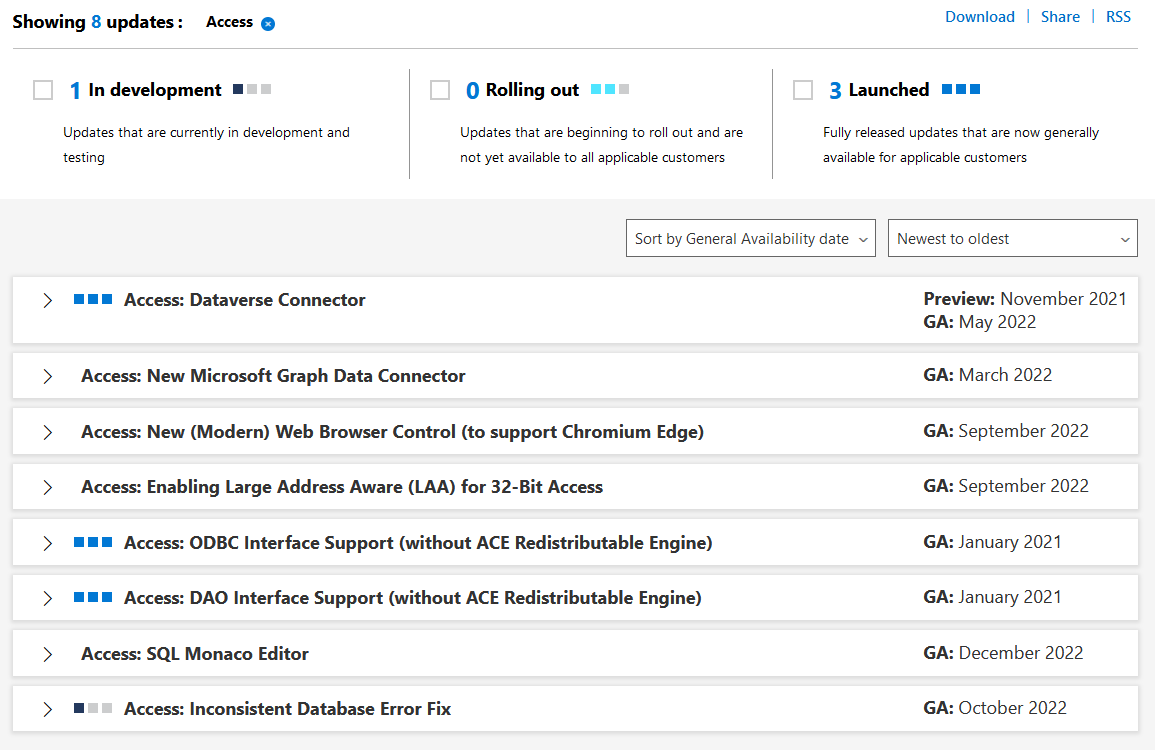 Take a good look, because it won't look like that for long.
The Microsoft Access team announced a new approach to their public roadmap (emphasis in original):
Beginning this month the Access team are transitioning to a new model. New feature development priorities will be listed in regular blog posts but in the Microsoft Public Roadmap we will only list those new features that our engineering team has 90% confidence will be shipping in the month listed.
OLD: Missed Deadlines
Daniel Pineault has a great post showcasing the missed launch dates for Access features over the past few years.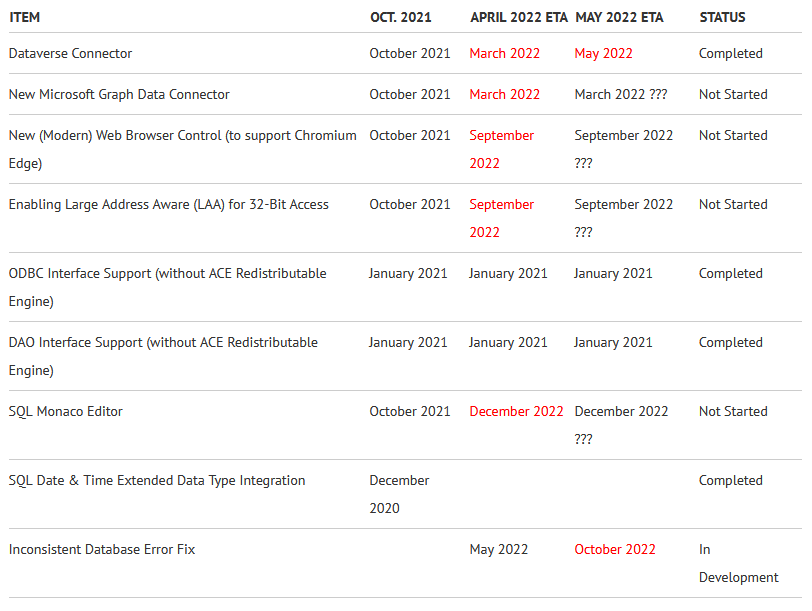 This approach of routinely publishing and missing launch dates for key features was not good.
While it provided some insight into where the Access team's development priorities were, it was worse than nothing as a planning tool for organizations that were waiting on specific features, such as the LAA flag or modern browser control.  Both of those features have been pushed back more than a year from their original estimated launch dates.
Microsoft made the right call in abandoning this approach.
NEW: Missing Features
Unfortunately, the solution goes too far in the other direction.
Rather than remove the release dates from the roadmap, Microsoft is removing the features entirely until they have "90% confidence [they] will be shipping in the month listed."  That is one VERY high bar.
What it means in practice is that the roadmap will likely show one, maybe two, features at any given time.  In fact, if Microsoft holds firm on their 90% rule, I wouldn't be surprised if we see a completely empty Access public roadmap for long stretches of time.
Let me tell you, an empty Access public roadmap will do nothing to stem the tide of "Is Access still alive in 2022?" forum posts and LinkedIn articles.
I feel like Microsoft missed a key detail when they came up with their fix for the problem:
[Access Developers]: Stop putting out bad information on the public roadmap.

[Microsoft]: OK, we'll stop putting out information on the public roadmap.
Where to Find the Microsoft Access Development Priorities
The current development priorities will be published in the official Access blog.
We will communicate these priorities every few months as plans evolve in this blog.
This is a poor solution, especially since there won't even be a link to the Access blog from the Access public roadmap.  Instead, customers and clients curious about the state of Access will soon find this as the entirety of the Access roadmap:

A single feature that has already been released.  
With nothing new to look forward to.  
Unless you just happen to know that you need to go to the Access blog.
And search for the latest post documenting the team's priorities.
That will be published "every few months."
The NoLongerSet Week in Review
I knew these changes were coming to the Access roadmap.
Microsoft shared their plans with the Access MVPs during the annual MVP summit.  They later shared the plan publicly at Access DevCon Vienna (which I covered briefly at the time).
In fact, this roadmap change is one of the reasons I recently started my Week in Review feature.  Every Saturday, I write an article chronicling what's new in the world of Microsoft Access.  I also include a snapshot of the current Access roadmap.  My version of the roadmap will also include the team's design priorities, pulled from whatever the latest Access blog entry is that details them.
If you'd like to get a copy of the Week in Review delivered to your email inbox every Sunday morning (along with my other daily articles from the week), just click Subscribe in the upper right corner.
We'll get through this together!
---
External references