vbWatchdog Webinar
Peter Cole of ThemeMyDatabase.co.uk presents a demonstration of vbWatchdog in action. Come for the info, stay for the discount code.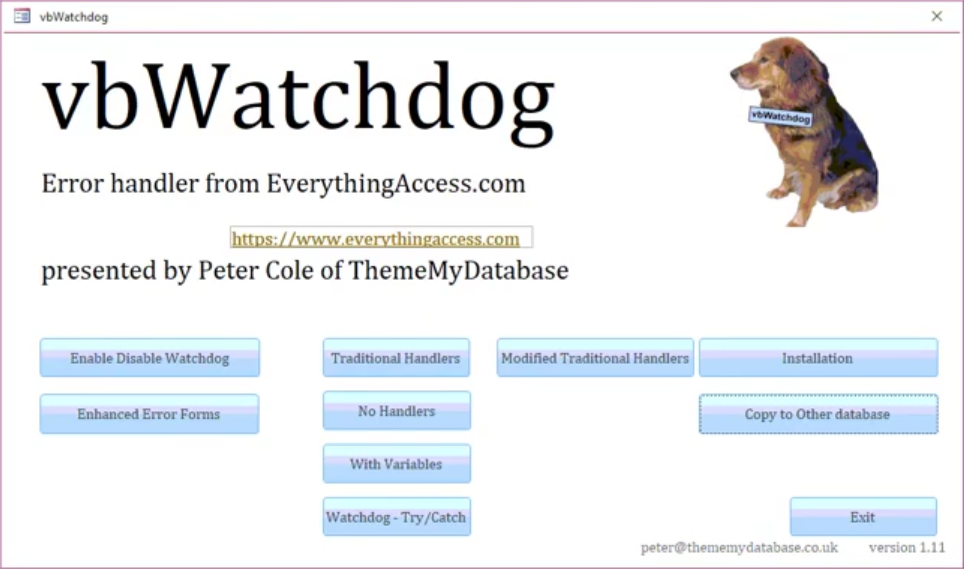 It's no secret that I'm a big fan of vbWatchdog.  It's difficult to express in words what a game-changer it is to have centralized error handling with complete access to the call stack and variable contents for error logging.
I'm not the only vbWatchdog enthusiast, though.  Peter Cole of ThemeMyDatabase recently held a webinar to demonstrate some of the many features and benefits of vbWatchdog.
Check it out here: https://www.youtube.com/watch?v=-zEoYCdMJS4
If you've been thinking about implementing vbWatchdog, this is a great opportunity.  In addition to getting a nice introduction to the software, there's also a vbWatchdog discount code embedded in the video.  Wayne Phillips, the vbWatchdog and twinBASIC creator, has said that he will honor the discount code through March 15, 2021.

The header image is a screenshot of Peter's demo Access application.